The Don is the ultra modern freeride and downhill board of the future. Short, narrow and with a very short wheelbase. It was developed with Benson Marquart, who has shaped modern freeriding in recent years with his unique style. With today's trucks and weights, the days of needing length for stability are gone. Then why not take advantage of the agility and control of a short wheelbase?
The mellow elliptical concave gives the rider a lot of freedom. The heavily front loaded rocker allows you to stand completely on the front truck and gives your foot a good reference point. At the back, a flat and wide W provides another reference. Overall, all the features are very simple and not restrictive. Exactly what you're looking for nowadays.
A small but effective detail is the angled flushcut at the front. With an additional 3° it makes the front truck a little more reactive and makes slides easier to initiate. And of course, two sets of holes for a weight like our Gravity Plates are already included.
So at first glance it's a small, simple board. At second glance, you can see that many exciting features have been integrated with great attention to detail.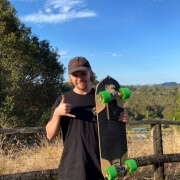 "My main goal with the board was to give myself the ability to stand directly over my trucks and wheels for maximum control in slides and basically remove any unnecessary board."